Plan to Go Now!
CALL TO BOOK!
1-866-269-2659
Or email us
for the Booking Form
Entry Requirements in Belize

Visitors to Belize are required to be in possession of valid passports and return/onward tickets. Visas are not required for citizens of the U.S., European Union, Commonwealth or Caricom nations, Mexico, Austria and Costa Rica. Visas are required for all other nationalities and can be obtained from any Belizean Embassy, consulate or British Embassy. For specific information please contact the Immigration and Nationality Department.
Spa Treatments
Full Body Therapeutic Massage
An assortment of therapeutic massages designed to drive tension from muscles, ease stress and mental fatigue and restore a feeling of well being.

Cellulite Treatments
Using toning and firming botanicals to reduce that dimpled appearance and create smoother contours.

Facials
A proven recipe of plants and minerals combined with expert, soothing application, nourishes, stimulates and revitalizes skin.

Hydrating Facial
Re-hydrates thirsty skin and restores natural harmony.

Firming Facial
Gives skin and muscles a lift, restoring a natural glow.

Purifying Facial
Brightens the complexion while cleansing pores.

Detoxifying Facial
Moisturizes and rids the skin of damaging impurities.

Tropical Body Wraps and Scrubs
Improve circulation and elimination while detoxifying and firming contours.

Herbal Body Wraps
Pure, all natural herbal and botanical preparations awaken skin and add new luster and radiance.

Seaweed Body Wrap
Mineral-rich, soothing marine spa treatments restore balance of mind and body. All the nurturing properties of the sea without the harsh salt.

More Mud Body Wraps
Provide the skin with optimum mineral balance and promote cellular oxygenation, leading to a more uniform, rejuvenated skin surface.

Exfoliating Body Polish
Awaken your senses with this invigorating treatment as it erases dull surface debris and leaves the skin soft and radiant.

After treating yourself to any of the above body wraps, further invigorate your body with high-pressure nozzles, which provide hundreds of mini massages all over the body, restoring natural energy and reducing fatigue while relaxing tense muscles.

Aromatherapy
Restores lost energy and physical and mental balance to promote a tranquil atmosphere for natural rejuvenation.



Belize Kayaking: A 3 1/2 -hour guided Kayak trip down the South Stann Creek River where you will observe pristine countryside and wildlife.
Ocean Adventures
Your Sea Resort has its own fleet of boats and professional guides ready to take you on an unforgettable Belize snorkeling adventure. You will be whisk you away to Belize's Barrier Reef (the second largest in the world) and the many beautiful cayes nearby, such as Laughing bird Caye National Park. We'll stop for a picnic lunch at our very own white sandy island where the only inhabitants- a family of osprey - will greet you.

Dive into the wonders of the magnificent Barrier Reef of Belize. The PADI 5 Star Dive Center on property stands ready to guide you through this remarkable underwater paradise with multitudes of Gorgonian fan corals, enormous sponges, hundreds of colorful fish, sheer coral-encrusted walls and the wondrous Palegics. As the experienced PADI Divemaster will show you, Placencia is the springboard to some of the best Belize scuba diving.



The PADI 5 Star Dive Center on site has state-of-the-art Oceanic equipment and a fleet of dive boats, including a 48-foot Pro Dive Boat with 3 engines and combined 1100 horsepower.
Finding the Jungle Beat and
swimming in the Caribbean Breeze!
Get off the beaten track and discover the real Belize with this exciting Belize Vacation Package combining a true rainforest and Maya discovery experience with a Caribbean holiday on Belize's exquisite, laid back Placencia Peninsula. This seven night all inclusive vacation package offers a choice of three and/or four nights at either resort with all transfers, taxes and service charges included.
Jungle Residence

The private 365-acre nature reserve set along the banks of the Macal River in the foothills of the Maya Mountains is home to a number of exotic jungle dwellers including peccaries, jaguar, monkeys and many others as well as over 300 species of tropical and migratory birds. Guests are literally surrounded by one of the most pristine ecosystems in the world, and the resort owners are committed to ensuring that it remains vibrant and unspoilt for generations to come.

The 23 palm thatched cottage rooms ensure a good night's sleep and delightful mornings accompanied by the sing song of a rainforest waking up, and guests can choose a Complete Garden Suite, an Orchard and Spa Villa, Macal Cottage or Tree Top Suite, all equipped with a Jacuzzi for even extra comfort. One of the best restaurants in Belize is on location, and the hilltop spa and airy jungle bar ensure complete relaxation after a day filled with discovery and adventure.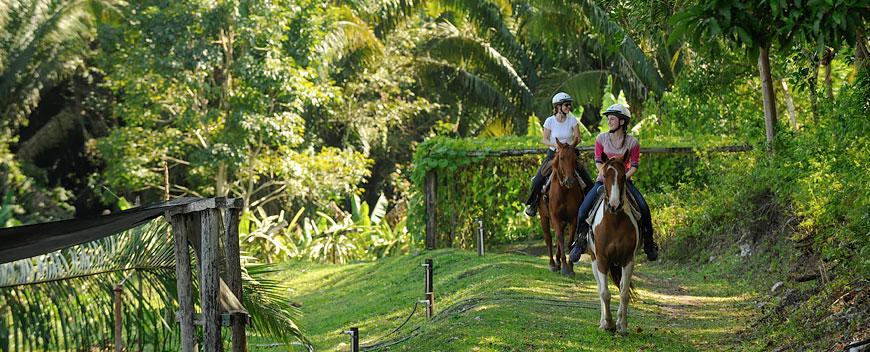 Sea Accommodations
This part of your stay places you in a beautifully appointed Hacienda-style Belize beach resort nestled on 22 acres of the finest white sand beach in Placencia Belize. Its ideal location allows you to be surrounded by Belize's best attractions- the Barrier Reef, Tropical Rainforest & Mayan Ruins. This unique position makes it easy for you to choose from a vast array of Belize's most sought after activities, including diving tours, fly fishing trips, and many more exciting adventures.
From Private Islands to beautifully appointed Vista rooms with views of Belize's Caribbean Sea to ocean view and oceanfront Villas, with spacious interiors and huge terraces, each of these accommodations are just steps from the beach and provide all the comforts and amenities you would expect from a top Caribbean resort.
The Jungle portion of this uniquely Belizean holiday package includes beautiful rainforest cottage accommodation, full breakfast, daily lunch special or packed lunch, dinner, excursions to the Maya temples in the ancient metropolis of Tikal, the sacred Maya Caves at Barton Creek, as well as guided tours of the resort's Natural History Centre, Hilltop Butterfly Farm, and activities including canoeing, nature walks, swimming and more. All transfers are included, as well as a stop at the Belize Zoo and the beautiful Maya pyramid of Xunantunich.
At your Sea Resort you'll receive one-way air transfer to Placencia with ground transfer/tour return, accommodation in an air conditioned room on the beach, a full meal plan, tours of the Cockscomb Jaguar Reserve, snorkeling trips to Belize's Southern Cayes and/or Monkey River. Placencia's seven miles of sandy beaches offer swimming, birding, beachcombing and unparalleled relaxation.

* Alcoholic drinks, sodas and juices are not included in the package price.
Prices are based on a minimum of two persons and include all accommodations, meals, tours, transfers, local flights, taxes and service charges. Upgrades are also available.
Details
7 Nights Recommended
Price
$3262 pp
Solo Rates Available
Deposit
50% at time of Booking
Includes
Ground Transfers
3 Nights Jungle Deluxe Rainforest Accommodations
Excursions to Mayan Temples
Guided History Tours
Canoeing
Nature Walks
Air Transfer
4 Nights Sea View Villa Accommodation
Guided Snorkeling Excursions
1 (60) Minute Massage Treatment
Jaguar Reserve Tour
All Meals
All Taxes
Accommodation Details
Tree Top Jacuzzi Suites put you at the top of our Belizean Jungle world in comfort and style. Perched high atop the meandering Macal River, these large airy suites provide a one-of-a-kind Rainforest Experience in Belize's verdant Western Cayo District. You'll share a birds' eye panoramic view with toucans, parrots, kingfishers and many other colorful avian species.
Each one bedroom suite contains all amenities including a private Jacuzzi set in verandas perfect for stargazing and ultimate relaxation.
The Macal Cottage is perched on the edge of a grassy knoll overlooking the sleepy Macal River, the cottage blends stylish simplicity and elegant furnishings to create a romantic ambiance in a stunning rainforest backdrop.

Nestled amidst tropical gardens, the spacious accommodation with its king sized bed, oversized day bed and leisure furniture also includes two private terraces for relaxing in hammocks or enjoying the outdoor Jacuzzi al fresco.
Classic Vista Seaside Suites, have a front entrance and overlook the pool and beach or beach trees and the beach. Second floor rooms have a similar layout to the first floor rooms, though the second floor rooms have cathedral ceilings and front and back doors, rear entrance and rear balcony. Rooms are decorated with handcrafted furniture in native woods, woven fabrics and rugs, Mexican terra cotta tiled floors, jalousie windows, original artwork and antiques.
Cuisine
Seaside Restaurant
The Resort's fine dining Seaside Restaurant is right on the beach with spectacular views of the Caribbean. The Seaside is open for 3 meals per day and serves international and local cuisine, including freshly caught fish and seafood and US imported beef.

Habanero Mexican Café & Bar
Hot! Hot! Hot!
The newly renovated HABANERO Mexican Café & Bar overlooks the Placencia Lagoon at the Robert's Grove Marina. Open for breakfast, lunch, dinner, sunset cocktails and late night drinks.
In the Jungle, the chefs combine modern and 'old fashioned' cooking techniques with a wide variety of fresh local produce to create innovative and original, mouthwatering meals.

Start your day light with a selection of tropical fruits and home made yogurt, or go local and try a more substantial breakfast of refried beans, eggs and freshly prepared corn tortillas.

For lunch you can choose from our 'Back a Bush' Menu with a choice of international dishes like pizzas and pastas accompanied by some regional favorites like quesadillas and tamales.

Apart from the a la carte menu at dinner time we highly recommend the Chef's daily four course connoisseur menu, which for many of our guests is one of the highlights of the day. Innovative dishes like carrot and ginger soup flavored with orange peel and lemon grass, cho cho and cantaloupe salad with mango and balsamic dressing, or fresh fish fillet wrapped in 'Santa Maria' leaves sprinkled with lime butter are just a few examples of what you can expect to find in this menu.

At the end of your day you may want to try a refreshing Sorrel Flower ice tea, our non-alcoholic signature drink, or any of our wide selection of delicious cocktails at our verandah bar where you can gaze at the stars and share stories with other guests. Our colorful bartenders will happily entertain you with tales of their beloved country, Belize. Our bar has in stock the best selection of spirits in the country and is open from six in the morning until the last guest leaves at night.