Plan to Go Now!
CALL TO BOOK!
1.866.269.2659
or email us
for
more information.
Learn how to cultivate resilience to help you navigate the stresses of your daily life. Start living with more energy, greater emotional balance, and improved mental and emotional flexibility. Explore the effects of emotions on the body and mind, learn how to stay present, and choose how you respond to stressful situations. This custom retreat is for YOU to restore on every level of Mind, Body and Spirit.
Yoga Options
Core Yoga
Develop your core-strength in this powerful practice of balance and stamina.
Learn to consciously surrender to sleep and dreams through this restorative yoga practice for the mind, body, and soul.
Energy Yoga: Level 2
The newest yoga offering...this challenging yoga class incorporates vigorous and repetitive movements designed to cleanse the body. Perfect for the bikini-weather!
Flying Dragon Yoga
Begin with deep stretching of Yin practice for the hips and lower back. End with an energizing Yang practice: bend, twist flow and fly. This Taoist practice is a light-hearted experience full of colorful visualization.
Morning Yoga: All Levels
Awaken and energize with traditional morning Sun Salutations (a linking breath and motion) and other Hatha yoga poses. This is a low-to-moderate intensity class, geared towards all levels.
Native American Yoga
Guided by the philosophy of Life in Balance™, this program was developed to help you reconnect with yourself and to the world we live in. The Circle of Life, according to Native American traditional belief, is divided into Four Seasons or stages of development. Our lives are a beautiful part of the Universal Circle to which we are all connected. This ceremony unites Hatha Yoga with Native American ritual through a series of Yoga postures that correspond with the Four Directions of the Sacred Circle. * Periodically Offered
Restorative Yoga
Learn to rest deep in your yoga postures in this practice, known as "active relaxation" by author Judith Lassiter.
Rise and Shine Yoga
Start your day with an inspiring yoga practice to prepare your body/mind for awareness in all that you do.
Yin Yoga: Mixed Levels
In this quiet practice, focus on stretching deeply into the fascia of the hips and lower back through meditation. While using breathing techniques, begin to soften and surrender into your postures for minutes at a time.
Yoga Essentials: Level 1
Learn essential Hatha yoga practices that enhance breathing, increase body/mind coordination and improve posture, balance and flexibility. This gentle class is good for beginners looking to learn the basics of the practice but could also be enjoyable for seasoned practitioners who want a slow and mindful yoga class. A gentle beginning class that introduces the essential Hatha Yoga practices to enhance breathing, balance and flexibility.
Yoga Flow: Level 2
A vigorous and fluid Vinyasa practice connecting breath and movement to build a detoxifying heat in the body and a steady focus in the mind.
Yoga Hike
Enjoy the benefits of hiking in the beautiful foothills behind the resort combined with a yoga practice that will open any tight areas in your body. This experience will leave you feeling invigorated and relaxed, now that is balance!
Yoga Nidra Meditation
Yoga Nidra Meditation is an ancient method of relaxation, meditation, and contemplation. This practice is designed to guide you into a state of deep relaxation while your mind is gently engaged in an endeavor to keep you wakeful and conscious throughout the exercise. The ability to remain aware while progressing into a state of deep rest has many therapeutic benefits and is a key tool used for the development of self-awareness.
An Oasis of luxury, perfect pampering
and 15 different types of yoga.
5 Night Package from $4809 pp, based on double occupancy
All-Inclusive, plus $750 pp in spa credits!
Call for Custom Quote for longer or shorter stays: 1.866.269.2659
Resort Overview
A top-rated all-inclusive destination retreat - a resort is an award-winning spa, and a great getaway. Situated in the warm shade of Santa Catalina Mountains on 400 acres of idyllic land, here is a place dedicated to opening eyes, minds, and hearts. Mindfulness is the core of the resort's philosophy. In everything they do, they encourage guests to live in the present moment, conscious of the unique intersection of mind, body, and spirit. This Wellness Holiday will be your catalyst for a healthy lifestyle change, your escape and support through challenging times, or simply somewhere to rest, reflect and re-energize as you begin the next chapter in your life story. For most of our clients, this vacation experience is a self-investment, which is nothing less than a life-changing and life re-affirming moment.
Resort Details

Growth and development activities that make the heart-pump and the head re-think; Fabulous spa resources that make the senses ignite and; An unrivaled team of wellbeing Specialists to help you make positive and lasting change in your life. Lest we forget the natural splendor and year round warmth.
Your All-Inclusive Experience Includes:

* Chauffeured Roundtrip Airport Transportation
* Arrival tote bag & sustainable water bottle
* Overnight luxury accommodations in a casita guestroom or suite
* All healthful and flavorful meals, snacks and non-alcoholic beverages.
* Participation in (if you choose) a vast array of self-discovery and growth activities including all fitness and yoga classes, lectures by wellness Specialists, outdoor adventure and challenge programs, and so many more!
* $150 resort credit per person per night, which can be applied to a selection of spa services, private sessions, and activities.
* Full access to the extensive resort amenities including 24-hour use of the Body Mindfulness Center featuring Olympic lap pool and state-of-the-art equipment including Cybex & TechoGym equipment, Woodway treadmills, life cycles, Stair Masters and free weights; Full-use of the swimming pool area which includes a tri-level pool with cascading waterfalls, acupressure stone walk and whirlpool; Access to beautiful golf courses.
Yoga and Meditation
Yoga and Meditation go together and create a synergy of balance for one's Mind, Body and Spirit. In addition to a day's offering of included yoga classes, you may wish to incorporate breath work and meditation into your Wellness Program.
Morning Meditation

Begin your day with the serenity of sitting meditation. This is signature Mindful Meditation, the practice of bringing awareness to our moment-to-moment experience. This simple--but not easy--practice of acceptance, letting go, non-striving and suspension of the judgmental mind leaves us with a deep sense of openness and receptivity to ourselves, to others, and to the moment as it unfolds. Profoundly impact the rest of your day by starting your morning in the serenity of sitting meditation.
Afternoon or Evening Meditation could be any one of the following:

Chakra Meditation
Connect to your seven energy centers through this guided meditation, which explores each Chakra's relationship to different aspects of your self.

Faith
In this non-denominational Faith Meditation we learn to "place the heart upon" what is possible, gaining trust and confidence in ourselves and the unfolding process of life.

Loving Kindness
Loving kindness is a 2,500 year-old meditation practice that uses repeated phrases of goodwill to evoke a feeling of friendliness and kindness towards ourselves and others. In Western terms, it is like a prayer, or a cycle of prayers. It is very useful for quieting distracting thoughts and feelings and clearing a space for mindfulness at the beginning of a session of meditation; it is also a valuable, heart-opening practice in itself.

Sound Meditation
Experience the positive effect of sound and vibration as a way to calm the mind, settle the emotions and balance the body, life and spirit. Using many tools and techniques, from the huge waves of the crystal bowls to the subtle waves coming from the vibrations of your own breath, you will learn new ways to listen and recognize how sound affects you.

Settle emotions and balance the body with the positive influence of sound and vibration.

Healing Visualizations
Healing Visualizations is an active form of meditation that engages the mind and harnesses the power of positive imagery to bring about states of well-being that create a pathway for mind-body healing to occur.

Peace Meditation
In this meditation we cultivate deep states of relaxation by first bringing ease and restfulness to the body, breathing naturally with awareness in a guided meditation accompanied by music. With visualization techniques, we further encourage serenity and tranquility which easily flows from the body to the mind allowing it to rest in its natural state of spacious, open awareness.

Cultivate deep states of relaxation with the assistance of soft, serene music and guided imagery.
Forgiveness Meditation
In order to release deeply held feelings of negativity to ourselves or others, we must be able to forgive. Forgiveness meditation opens and softens the heart and allows us to let go of shame, blame, guilt, and anger and replace this with openness, patience, compassion, and friendliness. Forgiveness does not mean that we condone a harmful action, deny injustice or forget. When we are held captive by our own or others' past actions we carry resentment and our present life can only be partially lived. In forgiveness we begin to give birth to a new and renewed self, free from the burdens of the past.

Accommodations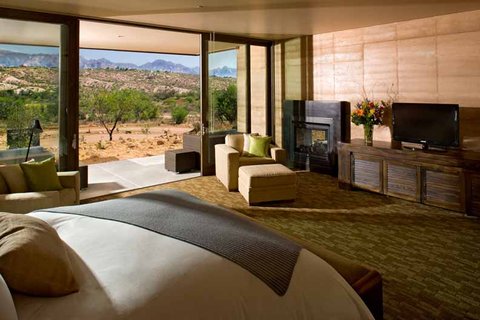 Rooms are inviting and comfortable, with a natural colors from the earth that create a connection with desert landscape and surrounding mountains.
Deluxe Rooms
Relax within your Deluxe Room of exceptional luxury retreat. Featuring an enchanting outdoor seating area, this stunning accommodation provides a truly restful setting.
Delight in all the modern amenities of your luxury spa retreat, in your room with natural colors from the earth that create a connection with the desert landscape and surrounding mountains.
Premium Rooms
The groundbreaking luxury spa offers enchanting accommodations in stunning settings. The Premium Rooms provide a quiet respite to unwind and relax. Take pleasure in the modern amenities, soothing décor, and elegant furnishings.
With a Premium View, enjoy your private outdoor patio with views of the water or mountains. With a Premium Room, enjoy more spacious living space including a comfortable sitting area.
Catalina Room
Reconnect with nature in the impressive luxury resort spa with a stay within the Catalina Room. These rooms feature an outdoor living area – perfect to sit and relax in a private setting.
Enjoy the outdoor shower. Relax and unwind in the large soaking tub. Take pleasure in these truly restful rooms, each featuring a wall of glass, offering a stunning view of the mountains surrounding the award-winning luxury spa resort.
Suites
Feel at ease within the standard Suite – a truly stunning resort spa suite. Relax in the living room. Cozy up to the fireplace. Rest comfortably in the plush King bed. Witness the perfect sunset from the privacy of your own outdoor sitting area.
With exceptional amenities and modern décor, these spacious luxury spa suites provide the ideal retreat.
Villas
Enhance your stay with the luxurious private villa accommodations. The Villas are so flawlessly designed that it rivals the beauty of the desert landscape.
Cuisine
Each morning, enjoy an array of breakfast items that will surprise you and nourish your body to prepare you for a day full of activities and programs. The extensive breakfast buffet changes daily but some of client's' favorites include steel cut oatmeal, fresh berries, buckwheat pancakes with agave syrup, European-style muesli, turkey and apple sausage, and more.
At lunchtime, savor the daily special created by the culinary team each morning. Or design your own culinary experience with our unrivaled salad bar, homemade soups & chilis, and more.
The menus change seasonally as the chefs are always innovating, consistently creating dishes that will ignite your senses without the calories you would expect from such delicious food.
Sample Menu
First Plates
Caramelized Onion Soup
Caramelized Onions With Flavors of Madeira,
Calories 130| Fat Grams 1 | Protein Grams 2
Carbohydrate Grams 16

Arugula & Maine Lobster Salad
Mexican Vanilla Bean Vinaigrette, Shaved Asparagus,
Rocket Greens
Calories 100 | Fat Grams 2 | Protein Grams 18
Carbohydrate Grams 1

Blue Corn Crab Cake
Avocado Corn Relish, Chipotle Mayo
Calories 114 | Fat Grams 4.5| Protein Grams 9
Carbohydrate Grams 5

Fire Roasted Vegetable Bruschetta
Zucchini, Yellow Squash, Red Peppers, Willcox Tomatoes, Portobello
Mushroom, Wheat Crostini, Sun Dried Tomato-Olive Tapenade
Calories 74 | Fat Grams 2 | Protein Grams 3
Carbohydrate Grams 13

Kurobuta Pork Lettuce Cups
Spun Carrot, Daikon Radish, Jalapeño Chile, Soy Lime Sauce
Calories 237 | Fat Grams 4 | Protein Grams 35
Carbohydrate Grams 17

Wood Fired Flatbread
Different every Night!



Entrees

Market Fish Tacos
Shredded Cabbage, Lime, Cilantro, Avocado Crema, Pico de Gallo,
Queso Cotija, Soft Tortillas
Calories 360 | Fat Grams 12 | Protein Grams 30
Carbohydrate Grams 33

Pistachio Crusted Grass Fed Beef Filet Mignon
Caramelized Onion Orzo Cake, Zinfandel Glaze,
Smoky Horseradish Aioli, Roasted Garden Vegetables
Calories 360 | Fat Grams 9| Protein Grams 28
Carbohydrate Grams 31

Thai Shrimp Risotto
Lemongrass, Kaffir Lime Leaves, Mango, Red Curry, Edamame,
Quinoa, Coconut Milk
Calories 280 | Fat Grams 6 | Protein Grams 3
Carbohydrate Grams 13

Pan Roasted Gnocchi
Red Beets, Roasted Butternut Squash, Local Arugula, Cherry Tomatoes,
Truffled Potato Cauliflower Puree, Served over a Watercress and Radicchio Salad Tossed in a Shallot Vinaigrette
Calories 340 | Fat Grams 13 | Protein Grams 17
Carbohydrate Grams 30